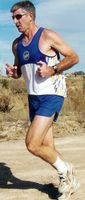 Neil looking younger than 55
Congratulations to Neil Boden who turns 55 today. Just in time for the track season. Hey Neil, do you want to run in the 4 x 1500 relay on 24/11?
The T&F program appears in the new October Vetrunner.
On 20/10 Vets track includes a 3000 and an 800.
On 27/10 there is a 3000, 1500, 400, and 3000/5000
The Pennington 3000 is on 17/11 and the Higgins 800 on 01/12
There is also a 4 x 400 relay on 3/11 and 1/12, 4 x 1500 on 24/11, and 4 x 800 on 15/12
I will be back from Adelaide before 20/10 so should make all Thursday sessions.
In Adelaide I will be running just the 5000 track and the 8k cross country, I don't think I will do the 1500 as I haven't done the speed training.
Other ACT runners competing in Adelaide include Roger Pilkington and Michael Leahey.